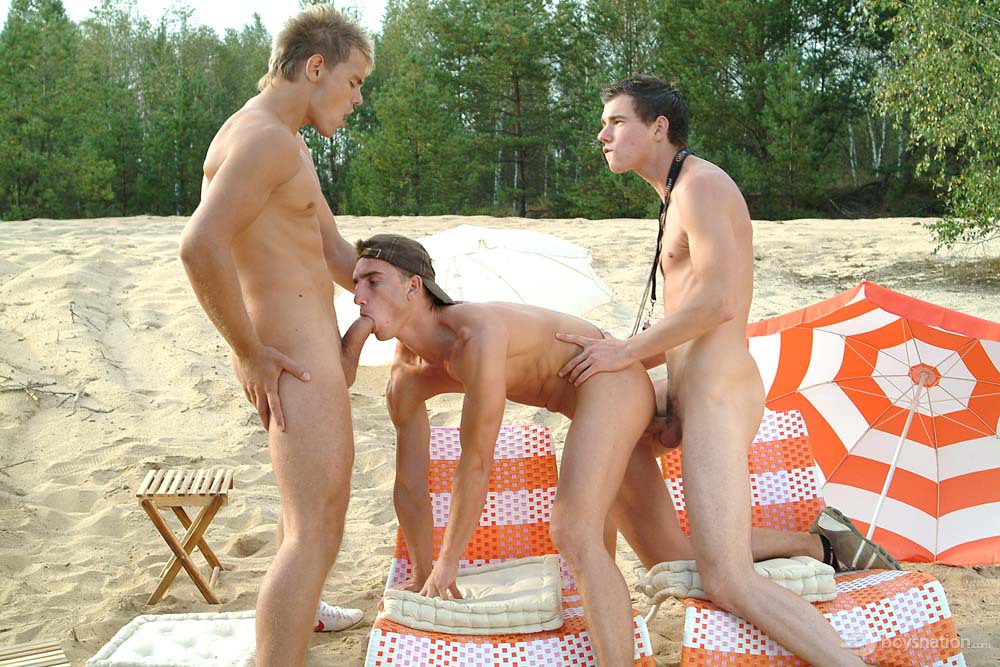 We have been having a discussion on Dudesnude about this topic. Because the board posts eventually disappear after a few weeks, I wanted to save this one in my blog.
======> Teens at nude beach at Cap d'Agde, France (see photo on the right below).
Subject: sex vacation ideas Poster:
mandaters
Date: 27 Apr 2006, 14:05
I want to plan a summer european vacation with sex as the main attraction...I've already done most of the touristy things. Where are the great places to go (cities and clubs) that have the horniest insatiable men? I am planning on at least a couple of weeks so multiple places would be great. Tell me about your hottest experiences.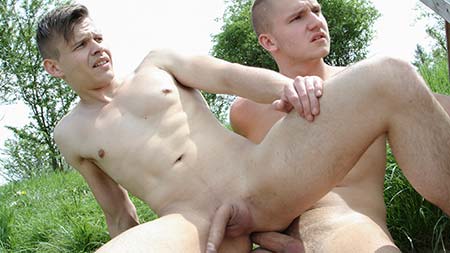 Subject: Re: sex vacation ideasPoster:
Troika
Date: 27 Apr 2006, 14:14
Berlin should be one your main stopovers... the city IS sex - why the hell you think I'm here? :) It has some of the most relaxed drinking laws in western europe, has tons of sex bars, most of which have darkrooms as big as the bar area itself, several gay areas, bars stay open until very early, and some are even 24 hour... you HAVE to come to Berlin if you want an action packed european sex vacation.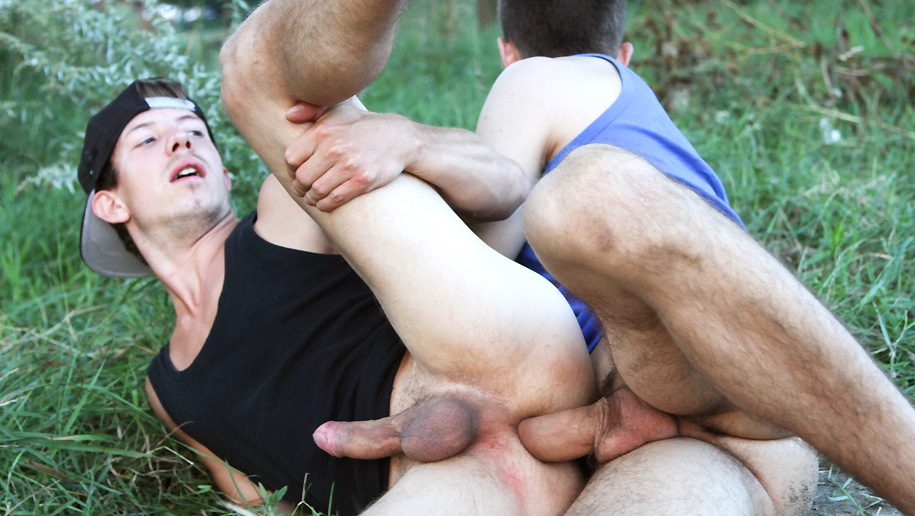 My number one recommendation: Berghain... Dance club that's mixed, but mainly gay, with large sex areas, open almost the entire weekend... you can party from midnight Saturday to late evening Sunday non-stop -- if you can handle it!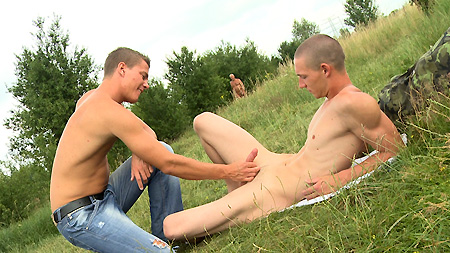 Subject: Re: sex vacation ideasPoster:
steelearch
Date: 28 Apr 2006, 00:45
My "can't miss" destination for sex is Paris - innumerable places, both semi-private (bars, clubs) and fully public (along the banks of the Seine at Tata Beach, at Les Sablieres, the Bois du Bolougne
, and I could go on and on and on....)And of course, it's still Paris, so plenty of non-sexual optionsThen you're also just a relatively short train ride from all the other great European cities (London, Amsterdam, etc.)

Subject: Re: sex vacation ideasPoster: hungryfuck Date: 28 Apr 2006, 01:11
I have to second Troika on Berlin. I was there a year ago for ten days. On my first night I was in a backroom bar and within an hour I had three hot guys in my apartment naked on my bed. The city is hot! I'll be in Munich this summer and Munich gay pride will be happening the week I'm there so I'm assuming things will be steamin' hot.

Subject: Re: sex vacation ideas Poster: trajan Date: 28 Apr 2006, 08:51
[Photo below is one of the author while naked in the dunes of Maspolamas, Gran Canaria, The Canary Islands, Spain's resort islands offf the coast of Morocco.)
Berlin - yes. Hamburg too, plus Cologne, Munich and Frankfurt. German gay scene has lots of leather-type bars with loads of darkroom action and the guys are generally hot, friendly and HUNG! Don't forget Amsterdam, one of my favourite cities, and try any of the bars on the Woermestraat. In Spain, definitely recommend a visit to Sitges, just down the coast from Barcelona. Then of course London which has a lot of hot venues, and even Birmingham where I live, which has Boots bar and several raunchy saunas. I've had lots of encounters in all these places plus others round the world. Recommend you get a copy of Spartacus, mate.
Subject: Re: sex vacation ideas Poster: mandatersf Date: 30 Apr 2006, 10:00
Berlin is definitely a must....(have been there before) it is a very sexual city. I do check the Spartacus guides everytime I go...but they are a little too general in their descriptions....any clubs that are not to be missed?.....I am sure there are more cities out there that should be brought to everyone's attention. Are there any special days or special local events that make them even better? BTW thanks for the advice guys.


Subject: Re: sex vacation ideasPoster: sunbuns99 Date: 30 Apr 2006, 15:18

Don't forget about London and of course Amsterdam - g-sex in the city (with either of them having much to offer besides). I am partial to Munich - because of Englishergarten (open air nude section of the park with lots of gay men).
In other threads on this travel section, we're talking about Gran Canaria (nude and also pretty hot sex both in the dunes and in some of the bars). I find the south of France to be hot enough -- cities from Herault through to Riviera have lots of places (sex clubs/bars with backroom).
I enjoyed good sex in Portugal -- Tavira (small town in rural setting that has a cruisy gay and nude beach) and there are gay beaches near Lisbon. Czech's Prague would also be a great place for sex and a wonderful tourist site too and I would love to go back to Budapest -- tons of hot men - the Turkish baths and Hungarian baths can be cruisy. It depends on what turns you on. I found it scintillating to be given a oil massage in a Turkish bath -- especially since the masseur seemed to enjoy getting my cock aroused and turning me over to 'show off' my erection to other men. Hey.. to each his own -- Berlin is likely to be the capital for hardcore -- a kind of fist and fury type of gay sex.

Subject: Re: sex vacation ideasPoster: THICKANDY Date: 01 May 2006, 00:54
In Amsterdam, the "Horsemen and Knights Club" of big dicked dutch men, host a 'public' sex party the THIRD Sunday of each month at the CockRing Disco bar/club on Warmoestraat (near the Red Light district). Doors open at 3 PM, then close at 4 PM. Party lasts usually until 7 or 8 PM. Always a hot time - lots of VERY hung men show up from all over.....the party takes over all 3 floors of the club. For more information: go to - http://www.ncadam.com




Subject: Re: sex vacation ideasPoster: hebadu Date: 01 May 2006, 01:07
Berlin is just a must - I live here now and lots of fun. Public places are big here and you can be nude at the Tiergarten, a hot place and all the bars. For younger boys I think Amsterdam and Amman are good, although Jodan is the best place.