Part 1 A mutual interest in gay incest with one of my online friends whom I visited in March 2016.
Damn.. one of the pics uploaded by a friend (Abe J) to the Daddy-Son Tribe is shown to the left. The photo actually looks a lot like him. Most all of the pics there are really nasty, and and the existence of
that tribe is really hot! I am a big fan of Hand Jobs magazine - they also publish a monthly collection dad/boy coach/athlete stories - which I really love reading. (See note about Hand Jobs below)
It really cool that one of my friends is attracted to the idea -- I would love being his 'part-time' daddy - some time soon I hope - although I don't really fit the bill as a buff, mustachioed, bear-type daddy.
Actually, Abe and I finally met up this year in Florida, where he now lives. He took me to his favorite public, but deserted, beach, and he fucked me twice while I stayed at his place. It was great finally getting to me him and to have a mutual attraction. While it was not incest - by any means - it sure felt great to be made love to by a guy young enough to be my own son. I'll always treasure that experience and hope that we will be able to meet up again someday.
See the link:
Hand Jobs
magazine http://www.hjmag.com/handjobs
[Note: Hand Jobs magazine has shut down. So you can no longer enjoy its great content: stories and drawings. ]
One of their favorite publications is the Daddy Bedtime Tales series.
If you can't buy them in a local bookstore, you can also order then online (or download the PDF version for a fee). I'll be happy to deliver some directly to your doorstep one of these days.. or you can come to visit me on the Big Island and we can read the stories together (smile)... and then we can have fun playing daddy and son (screwing around on the beach and everywhere in between (LOL)..
That is really so hot.. I'm not really at the point that I ever tell anybody I'm into fantasies about sex between a father and son (or nephew/uncle) but those male sexual/romance scenarios really get me aroused... I think that's one reason that CMNM is so attractive -- that kind of nudity (without it necessarily resulting in any actual overt sexual behavior) is likely to happen when the partners know each other well.. or when there is an authority or control/dominant factor involved.
Part 2 Ass Friday's Adventure
[This is a posting by Brad] posted previously the DF phpbb on July 29, 2008

So I wanted to head to the regular sex club I go on Friday afternoon and hang naked, while mostly everyone there is clothed and older than I am.

This Friday though before that i went to this guy's house who wanted to video tape me, mainly my ass he gave me a rim job while he was tapping it and his buddy was watching it online.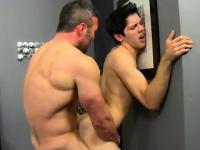 Then I walked a couple blocks to the sex club, I stripped naked, the guys that work there already know me and check me out too.

I had three experiences there, the first in the patio, a guy and I were jacking off. He wanted to sniff my ass so I spread my cheeks while he went at it and eventually came.
Later a young dude, very nice looking and muscular, was really taken by seeing me all naked and erect, so he started following me and we ended up upstair. He pulled his pants down and we jacked each other off. He had a great ass so I wanted to rim it and finger it but he was nervous; however, he came a big load.
[ <<- at="" author="" blog="" font="" ic="" is="" left="" nbsp="" of="" the="" this="">->

Finally a regular older handsome man spotted me and I really like what he does, just groping me, fondling me and spreading me while others watch. We tried different places and a wide variety of men there saw all they wanted as he touched and groped me while he was fully clothed.

Finally I came in front of him and 4 other guys watching and jerking off along with me.
Also I have been going to the front where the main restrooms are and pass by the older men that work there fully naked letting them watch all they want.
Later on Sat that was another story , a 38 year old
married man that
met online came over. He was kind of nervous, but we ended up naked in bed jacking off each other, and fingering each other until we came. He really liked it.
The End